Caterer traps arm in dumb waiter in Stratford-upon-Avon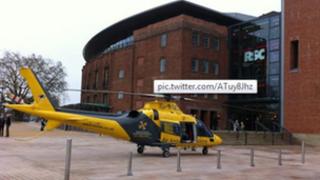 A man had to be flown to hospital after trapping his arm in a dumb waiter at a restaurant in Warwickshire.
The caterer, in his 40s, trapped his arm while working at a restaurant in Sheep Street, Stratford-upon-Avon, at about 09:35 GMT.
He was trapped for about an hour before he was cut free and is now believed to be in a stable condition.
An air ambulance helicopter landed outside the Royal Shakespeare Company theatre.
It flew him to University Hospital Coventry and Warwickshire.