Schmallenberg virus found in Warwickshire sheep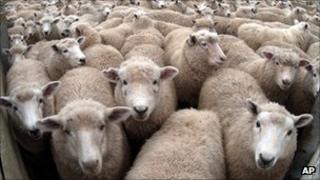 A disease which causes birth defects in livestock has been found in Warwickshire.
The Schmallenberg virus was found among sheep at two farms in Warwickshire,the Department for Environment, Food and Rural Affairs(Defra) said.
The two farms involved have not been identified. More than 150 cases have been discovered across the UK.
Defra said health authorities here and in Europe believe it is "very unlikely" the disease will affect humans.
Defra's chief veterinary officer, Nigel Gibbens said: "Currently we're seeing a relatively limited impact on farms, but of course this could change as the lambing and calving seasons continue."
It is thought the virus, which causes late abortions and birth abnormalities, has been spread by midges.
Defra said it believed livestock may have got the virus from infected insects blown across the Channel from affected areas in Europe.
The agency said it was "closely tracking the disease and will continue to work with partners across Europe and the UK to develop our knowledge of the disease".
Infection is apparently symptomless in adult sheep, but the virus can damage the foetus when pregnant females are infected, leading to a range of deformities at birth.