London 2012: £15m contracts helps secure Coventry company's future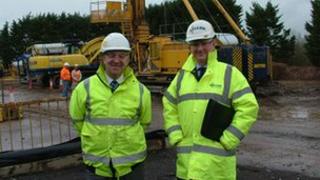 A Coventry engineering company has said Olympics contracts worth £15m have helped secure its future.
Keller Foundations, based in Ryton-on-Dunsmore, laid the foundations for the Olympic stadium in London and the aquatics centre.
It has also won the bid to lay foundations for the London's cross rail tunnel, partly due to its Olympics work, according to the company.
It said the Games work had protected it through the economic downturn.
Managing director Trevor Snell said: "The Olympic work has tided us over and kept some of our long-standing employees employed.
"Working for the ODA [Olympic Delivery Authority] we were guaranteed payment and it came along at a very good time for us... through very difficult trading conditions in the last two or three years.
Keller Foundations, which employs more than 100 staff, is part of the Keller UK group.
Mr Snell said the single biggest project had been the Olympic stadium.
"It's quite an iconic structure and when we see the opening ceremony and the closing ceremony it will be good to think we undertook the work which supports that structure," he added.
Coventry City Council said the city as a whole was expected to benefit from about £80m of Olympic-related contracts.