Budget 2012: Henley-in-Arden coach firm 'disappointed'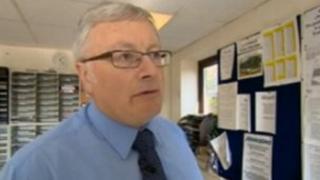 The owner of a coach firm in South Warwickshire has said he is "disappointed" with the government's Budget regarding fuel duty.
Chancellor George Osborne said a 3.02 pence per litre fuel duty increase would take effect on 1 August.
Peter Johnson from Johnsons coaches based in Henley-in-Arden said firms like his were not being given a chance.
The Confederation of Passenger Transportsaid "fuel costs are killing coach operators".
'Not the problem'
Mr Johnson said: "I'm disappointed he [George Osborne] couldn't have done more to promote coach and bus travel.
"We're the solution, we're not the problem - we can deal with congestion and we can take large numbers of people all over the place."
He said the firm, which operates 44 coaches, spent £1.75m on fuel last year and expects to spend more than £2m this year.
Phil Bateman from the confederation said: "Fuel costs are killing coach operators, it's a major concern amongst some of them because of the income it's taking just to pay for the fuel they need."
The chancellor has said fuel duty would not rise faster than inflation, unless oil prices were to fall below £45 a barrel, well below crude oil's current market price of about $125 (£79) a barrel.