Tweet-a-thon from maternity unit in Coventry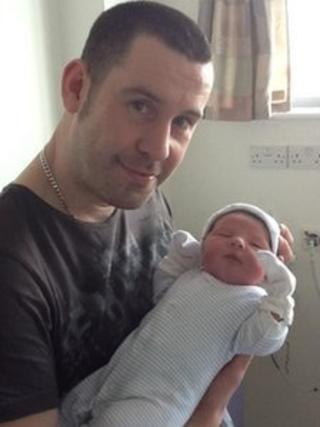 Babies born in Coventry have been given an early introduction to the internet during a tweet-a-thon from a busy maternity ward in the city.
The tweets started at 08:00 GMT and followed maternity staff during a 12-hour shift at University Hospital.
The trust said it was the first time any NHS hospital in the UK had tweeted live from its maternity unit.
The event, part of the trust's month-long celebration of motherhood, aimed to "open the window" on services.
The tweet-a-thon also aimed to highlight the remarkable mothers and babies on the ward, as well as the staff that ensure their wellbeing, University Hospitals Coventry & Warwickshire NHS Trust (UHCW) said.
Claire Allan, modern matron for the labour ward, said: "We are delighted that the first tweet-a-thon in the NHS from a maternity unit will begin in our busy labour ward.
"It is true to say there is never a dull moment and I am sure there will be plenty of new arrivals during the day."
Several babies arrived during the tweet-a-thon, with one of the first being Noah, pictured with dad Aidan Dunne.
The tweets also took readers through the workings of the maternity ward, from admission to discharge, introducing them to members of staff along the way.
Carmel McCalmont, the trust's head of midwifery, said: "Our team of midwives and consultants work incredibly hard every day to welcome new babies into the world, and we are really looking forward to giving the public a glimpse of what goes on behind the scenes."