'My son frightens me with his money demands'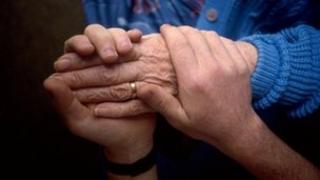 Social workers visiting the home of a 66-year-old man in Warwickshire were greeted with a scene of squalor.
One described there being "piles of mouldy cakes and an infestation of flies" - and someone living among them.
The team was called to the house after a neighbour spotted a small fire in the centre of the lounge, which he feared could be a fire hazard.
The fire was in fact the only source of heat for the 66-year-old man, who was burning furniture, doors and even door-frames in an attempt to keep warm.
Piled against the sofa, the only piece of furniture left in the house, were pieces of kitchen worktop, ready to feed into the flames.
Council staff later discovered that cut off from electricity, gas and water, the man had been living on the equivalent of £1 a day, while a "friend" stole his benefits.
'Demands for money'
According to the county council, the case is far from unique, even though the majority of cases of financial abuse of older people are thought to go unreported.
It launched a campaign on Tuesday to encourage other victims come forward, after recording 158 cases in the last financial year - a rise of 9% on 2009-10.
The council said the economic downturn had "triggered growing concerns", set against the increase in the number of reported cases involving people over the age of 65.
After neglect, cases of theft, fraud, demands for money and the misuse of powers of attorney represent the most common form of abuse suffered by elderly people.
"The perpetrators think they can get away with it because their victims are frail, lonely or mentally impaired," said Liz Kershaw, patron of Age UK Warwickshire.
Those perpetrators are most commonly family members, friends or people in a position of trust, such as carers.
One 85-year-old woman said she had been forced to pay for her son's fortnightly visits to see her.
"When he arrives, he will say that the train was cancelled or that he was too late... so he had to hire a car again," she said.
"He tells me that the car hire is £200 and I give him my card for the cash machine and he always draws out an extra £100, sometimes £200, on top of the original £200.
"He frightens me with his demands for money, but he is all I have... I am now worried about what will happen when it is all gone."
'So embarrassed'
County councillor Izzi Seccombe, portfolio holder for adult social care, said many cases went unreported because victims often feared retribution or the impact on their family relationships.
Other forms of financial abuse are more subtle than simple theft.
Another Warwickshire victim, an 89-year-old woman, said she had an arrangement with her daughter who picked up her pension and "saved" it on her behalf.
She said: "My daughter gives me £20 each Thursday and then I go to the shop and spend £7 on cat food and then buy what I need.
"Once a month my daughter will give me 10 tins of soup, washing up liquid, toilet rolls and tea bags
"When I asked her for some more, I needed underwear, she will give me the cash and I have to give her the receipts.
"I do not trust her any more. She makes me feel so embarrassed - when I have to ask for new knickers, she asked me why I needed them."
The cases were referred to the council's safeguarding team, which said the 9% rise over the last two sets of financial years looked set to continue in 2011-12.
A spokesperson said it hoped the campaign launched on Tuesday would help identify many other victims still suffering behind closed doors.