Museums appeal for Coventry FA Cup memories and memorabilia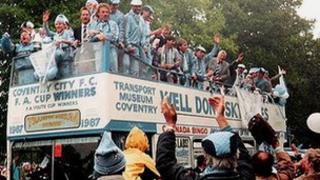 Museum officials have urged anyone with stories and photos of Coventry City's 1987 FA Cup win to help them.
The Herbert Art Gallery and Museum is hosting the From Highfield Road to Wembley Way exhibition in April, which needs items to display.
The show will include five sections that will describe how the club went on to the win the cup 25 years ago.
Dominic Bubb, exhibitions officer, said "This wasn't just about the players, it brought an entire city together."
On 16 May, 1987 Coventry City won 3-2 against Tottenham Hotspur at Wembley Stadium.
Mr Bubb added: "Every submission will show the opinion and perspective of the person who donated it, and their views will be different to the next. Each object is a little piece of living history."