Down's Syndrome trolling: Charity wants positive images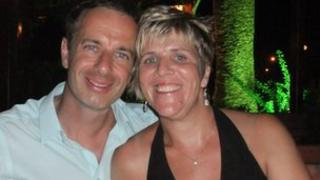 More positive images of disabled people are needed to counter attacks by internet trolls, a charity has said.
Contact a Family said it would be "awful" if parents stopped publicising family pictures because they can be taken and used to mock disabled people.
Liz Crowter, from Coventry, said she was "horrified" after photos of her daughter were used to insult people with Down's syndrome.
The images were removed when she complained to Facebook.
The photos had been taken from a website for a parents' support group.
Trolling is described by Oxford Dictionaries Online as an "informal term", and means to send or submit a provocative email or posting with the intention of inciting an angry response.
Online mentoring
Srabani Sen, from Contact a Family, said: "It's important that there are more not less positive images of disabled people out there in the media, on social networks and on websites.
"Disabled children and their families face discrimination on a daily basis and trolling is just another example."
The charity offers online advice for parents on how to deal with cyber bullying.
The Down's Syndrome Association said trolling was a "vindictive and upsetting practice".
A spokesman said: "We are looking at ways in which we can support members who are affected by it."
The charity Beatbullying said trolling was becoming "a major concern" as young people continued to suffer at the hands of internet users who left abusive, often anonymous, comments online.
Its chief executive officer, Emma-Jane Cross, said: "This is yet another example of the growing problem of cyber bullying in our society causing deliberate upset and harm."
The charity runs an online mentoring service to help victims of cyber bullying.
Inclusive society
Paul, a community advocate working for the Birmingham Down's Syndrome Network, believes parents of children with Down's syndrome or other disabilities should not be fearful of the internet.
He has a teenage daughter with Down's syndrome.
"The worst thing we could do is to tell our children not to be part of an inclusive society," he said.
He believes the answer is for parents to be educated about how they can monitor what is happening on Facebook and other social media sites.
"We need to bring parents up to speed so that they are the first line of defence," he said.
West Midlands Police said all types of hate crime, including disability hate crime, were taken "extremely seriously".
The force said it was working with partner agencies to pilot 'third party reporting centres', which allow victims to speak to someone in an environment they are familiar with, to people they know and trust.