Children's services 'victory' at George Eliot Hospital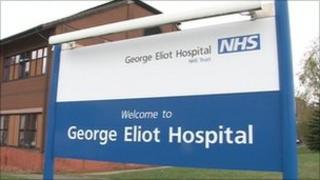 Outpatient children's and maternity services are to remain at the George Eliot Hospital, according to the trust that runs it.
Managers had been looking at moving them as part of a review of NHS services in Coventry and Warwickshire.
It said children's inpatient services would move to University Hospitals Coventry and Warwickshire.
A former midwife at George Eliot has called it a "victory for campaigners".
Jane Hill said: "I think people in the area will be breathing a huge sigh of relief that these services are to stay.
"No one wants to think they've got to go to Coventry, but at least we've got that daytime base for now."
A statement from the Arden Cluster, which brings together NHS Coventry and NHS Warwickshire, said: "The preferred option for the future of paediatric services in North Warwickshire is that inpatient services for children move to University Hospitals Coventry and Warwickshire.
"All other paediatric services, and maternity services [will] remain at George Eliot."
Sue Roberts from the Arden Cluster said the decision was due to be officially ratified at a meeting next month.
Previously, three local councils had opposed any suggestion that Nuneaton should lose its maternity or children's services, because they feared this could lead to the closure of the hospital itself.
Annually, there are 2,500 live births at George Eliot and about 17,500 children are admitted to its A&E department.