Russian Gun Dogs hope to be Best in Show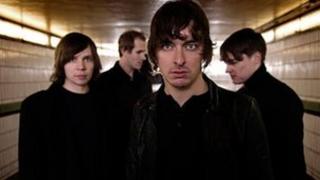 BBC Coventry & Warwicshire's Band of the Month for April, Russian Gun Dogs, say they are improving all the time. And it is hard not to agree with them.
Their name may conjure up images of water dogs prowling the Baltic coast, but if truth be known the group are about as Russian as an English Setter.
Hailing from Coventry, the four-piece darkwave indie outfit was first picked up on BBC Introducing's radar in early 2009. They had barely been going two years but armed with a handful of demos their potential was evident back then.
Paul Watters (singer and guitarist) and his brother Dean Bourne (bass) joined up with their friend from Caludon Castle School, Phil Morley (guitarist), in 2007. It was not long before drummer Sean McNulty completed the line up.
And last year it appeared they had come of age. Their songwriting had improved immeasurably and their synth/guitar sound seemed much fuller both live and on record.
This year they have kept the new material coming with songs like Surrender and Dresden and have had a healthy slice of air time devoted to it all on BBC Coventry & Warwickshire.
Planning ahead
"Ultimately we want to write, record and then perform/promote an album," said Phil.
"We already have an album's worth of songs but our songs keep getting better and better so deciding on what works best is tricky right now.
"Besides, we don't want to put an album out just for the sake of it. It has to mean something and be warranted.
"Hopefully the time will come where we get to release an album, or a single on some sort of label.
"But we definitely won't be creating our own label just to release a bunch of songs, it wouldn't feel credible for us."
After a busy start to the year the members do not look like they are about to rest on their laurels as Phil admits they have planned ahead from "RGD Towers".
"So far this year we wanted a promo vid, we did that. We wanted to record at Vale Studios and get mastered at Metropolis, we did that," he added.
"On top of that we wanted and are fortunately continuing to get great gigs booked.
"So the next big plan for 2012 would be a headline gig at Kasbah and touring support with an established act."
The band can already boast sharing the bill with the likes Ash, Pigeon Detectives, Sound of Guns and Spector.
Maybe one day Russian Gun Dogs will be the act named Best in Show.
Russian Gun Dog's music can be heard on BBC Introducing in Coventry and Warwickshire on Friday and Saturday nights between 20:00 and 21:00.