Mayor in Coventry 'would bring dictatorship'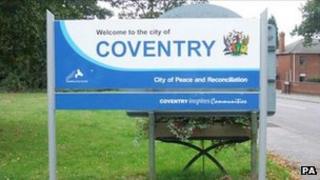 A Coventry businessman said electing a mayor would mean the city being run by "a dictatorship".
Joe Elliott, who is leading the city's 'No' campaign, told a BBC debate the position would not be democratic.
But Coventry North East MP Bob Ainsworth, who has expressed interest in the role, said a mayor could "transform" local politics.
Coventry is one of 10 cities which will hold referendums on whether they want a directly-elected mayor on 3 May.
Voters in Birmingham, Manchester, Leeds, Nottingham, Bradford, Sheffield, Newcastle, Bristol and Wakefield will also decide whether they want a directly-elected mayor.
Those cities where a majority of people vote yes will hold elections later this year.
System 'not worked'
Mr Elliott, a former Coventry City Football Club chairman, spoke at the mayoral debate held by BBC Radio Coventry and Warwickshire.
He said: "One person leading - it's just not right. It's not democratic.
"Dictatorship is what I would say."
Another opponent, George Duggins, deputy leader of the Labour-run city council, said: "It's a forced referendum by Westminster.
"The question is not simply 'yes' or 'no' - a mayor rules by a third of the council, they can't be replaced in four years.
"The system has not worked elsewhere and if it isn't broke don't fix it."
'Fulfil our potential'
But Labour MP Mr Ainsworth said: "If you had an elected mayor in Coventry or any other city it would transform the way politics works.
"If someone had to actually go and present themselves to the entire city for a mandate for a four-year period they would think very differently to the way councillors are obliged to think now.
"I don't believe that anybody of any party would put themselves forward in a mayoral election without being able to commit themselves to massive management savings at Coventry City Council."
Meanwhile, Darren Jones, a businessman leading the "Yes" campaign, believes the city has to take its "chance" and back an elected mayor.
"If you think we have fulfilled our potential - vote 'no'. If you think we've got a great city centre vote no," he said.
"If you think we are heard in London and around the world carry on - just vote no - that is what the current system has delivered.
"But if you think we could be better, we could actually fulfil our potential - if you think we could change the city - I think you've got to change the system."