Coventry Cathedral spire co-pilot returns to view handiwork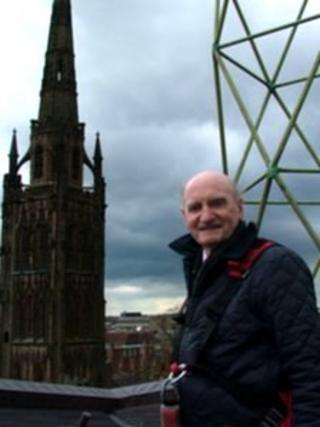 A former RAF helicopter pilot who helped to lower the spire on to Coventry Cathedral has returned to inspect his work half a century on.
Retired Sqn Ldr Ron Salt helped to position the 80ft spire on the city's new cathedral on 27 April, 1962.
It was rebuilt in the 1950s after coming under fire from the Luftwaffe.
The new cathedral opened on 25 May, 1962. Sqn Ldr Salt, now 79, inspected the spire as part of the cathedral's 50th anniversary celebrations.
This time Sqn Ldr Salt, from Salisbury, made the trip on to the roof - something he had not done in 1962 - with the assistance of West Midlands Fire Service.
He said: "We didn't have a roof like this, at the height like this to practice with. We just had an airfield.
"We came here full of confidence, probably cheekily so, but it was worth it."
Sqn Ldr Salt also remembered thinking how different the new spire looked compared to the other three spires on nearby churches and the old cathedral.
He said: "The spires around about here look extremely old compared with the one we put up there.
"John Dowling [co-pilot] and I were by the aircraft and looked up, almost in concert, and said, 'why have we gone to all this trouble just to put that piddling little thing up?'"
"I can see today that it has a structure which must be attractive to the stranger and I'm glad I've come to see it. It still looks fairly fragile to me.
"I really didn't think that it was as impressive as it is and I'm delighted to be up here [on the roof of the cathedral] and feel the wind in my hair."