Holy Trinity appeal launch for landing stage in Stratford-upon-Avon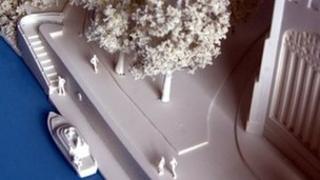 An appeal for a new landing stage on the banks of the river by the church where William Shakespeare is buried in Stratford-upon-Avon is to be launched.
Organisers said the stone steps and 15m (49ft) landing strip by Holy Trinity Church were given approval by the district council last year.
Holy Trinity will launch the appeal in conjunction with Avon Navigation Trust on Tuesday.
They hope to complete the £150,000 project by June 2014.
Fundraising co-ordinator, Hugh Thomas, said the project would help form "part of a circular tour of the town".
He said: "The boating fraternity, particularly those that hire boats and those on river cruises from Bancroft Gardens and beyond, will be able to access Holy Trinity Church as an additional element of their outing."