Rotary Shakespeare Marathon curtailed by wet weather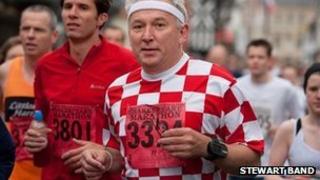 A Warwickshire marathon was curtailed over fears for runners' safety in wet conditions, organisers have said.
Those expecting to complete the Rotary Shakespeare Marathon, run over two laps which start and end in Stratford-upon-Avon, were restricted to one circuit.
Heavy rainfall in the hours leading up to the race forced the decision just minutes before the start on Sunday.
One of the 2,500 runners said: "If it was passable for one lap then it should have been passable for two laps."
President of the Rotary Club of Stratford-upon-Avon, Andrew Wolfe, said they took advice from the Met Office before reducing the event to 13.1 miles (21km).
'Decision vindicated'
Mr Wolfe said: "We had to take into consideration the fact that we not only had very experienced marathon runners but also people who were running the half marathon or marathon for the first time.
"Safety of the runners is paramount. It was very muddy in places under foot and I think the decision we took was vindicated by conditions."
Chairman of Stratford-upon-Avon Athletic Club, Paul Hawkins, was only due to run the half marathon but admitted he was surprised with the decision to cancel the full marathon because there had been no warning.
He said: "The organisers just announced it with about two or three minutes to go when everybody was lined up at the start. They could have done better."