Local elections: 'Youth jobless' concerns in Coventry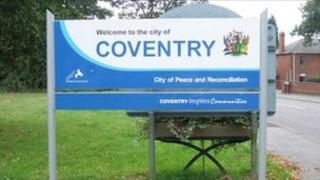 Hundreds of apprenticeships should be created to help young unemployed people in Coventry, say the Conservatives.
Kevin Foster, the Conservative opposition leader at the city council, said the party wanted to work with private firms to create up to 740 apprenticeships.
There are 3,105 people aged 18 to 24, or 7.2%, claiming Job Seeker's Allowance in Coventry, according to the Office for National Statistics. The city's overall unemployment rate is 5%.
According to Lancaster University figures, about 16% of the city's 18 to 24-year-olds are not in education, employment or training (Neets).
The Tories, who have 17 of the 54 seats on the Labour-controlled council, unveiled their apprenticeship plans under their "alternative budget" in February, which was rejected by councillors.
Mr Foster said: "We feel there's an opportunity to do more in terms of apprenticeships."
He said their scheme would be similar to Tory-run Walsall Council's £2m project in which firms received funds for taking on apprentices.
'Job shop'
But Labour, which has 35 seats, said it had made key improvements and helped hundreds of people into work since coming into power in 2010, ending six years of Tory rule.
City council Leader John Mutton said: "The main way we are fighting this campaign is by comparing the situation of two years ago with the situation that we have today.
"Firstly, we are comparing the situation of unemployment under the Conservatives with the fact that Labour has set up a job shop in Coventry and got between 500 and 600 people back into work.
"We have also created 120 apprenticeships and challenged the private sector to match us."
Mr Mutton said working with the council through the Local Enterprise Partnership (LEP) businesses had "exceeded the target" of creating 100 apprenticeships in 100 days.
Highways was another important issue, he said.
"We have also reminded people what the condition of the roads were like under the Tories in Coventry, where national newspapers were likening them to the surface of the moon."
He said Labour had resurfaced 150 miles (241km) of road in two years and allocated £1m to pavement repairs.
Mr Foster said for the Tories, youth unemployment was "top of the list", while in power they would also immediately "scrap" Labour's plans to close seven Sure Start children's centres in the city.
Meanwhile, Mr Mutton said the council had promised more funding for children's services and had put £2.2m into "early intervention work" to reduce the number of children being brought into care.
The council leader also pointed to multi-million pound investment, including £3.5m of European funding "to kickstart the rebuilding of our city centre".
A third of the council seats are up for election - one seat in each of the city's 18 wards.
'Poorer city'
The Liberal Democrat and Socialist Alternative parties each have one council seat - both which are up for election on Thursday.
Lib Dem councillor Russell Field said the party faced a "very tough" fight.
"I am worried - I don't want Coventry to go to a Labour-Tory Punch and Judy show," he said.
"The plan really this time is to hold on to the seat that we've got and keep campaigning in other areas as well.
"The biggest one [issue] is government cuts. We need to make sure the council protects, as much as possible, frontline services."
Mr Field added the party was also concerned by a lack of green spaces.
"There's a lot of money being spent on the city centre but it's turning Coventry, I think, into a concrete jungle," he said.
Meanwhile, Socialist Dave Nellist, who is also standing for re-election, said the party was fighting government cuts, which had resulted in "a poorer city every year".
"All three main parties assume that public services should pay for the damage caused by bankers, but we don't accept that," he said.
Socialists aimed to reduce numbers on the council housing waiting list by speeding up building schemes and also to increase the number of apprenticeships.
"All three parties aim to manage the decline of public services - but we want to fight for improvement," he said.
Other parties standing for election in Coventry are the Green Party, UKIP, the British National Party, the Christian Movement for Great Britain and independents. For a full list of candidates in each ward please visit the council website .
Coventry is also among 10 cities set to hold a referendum on whether they want a directly-elected mayor.