Atherstone-on-Stour fire: Court hears how four firefighters died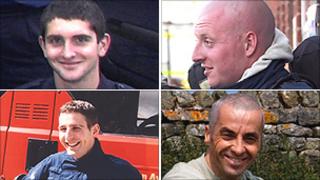 Three of the four firefighters killed in a warehouse blaze in Warwickshire died of probable heat exhaustion and suffocation, a court has heard.
John Averis, Ashley Stephens and Darren Yates-Badley died in the blaze in Atherstone-on-Stour in November 2007.
Stafford Crown Court also heard that Ian Reid is likely to have died from smoke inhalation and suffocation.
Managers Timothy Woodward, Paul Simmons and Adrian Ashley deny four counts of manslaughter by gross negligence.
The jury was told that bodies of Mr Averis, Mr Stephens and Mr Yates-Badley were found together but initially could not be recovered because the building had become unsafe.
Deliberate fire
Mr Reid was pulled from the warehouse alive but died later.
The court also heard that an investigation carried out by Hereford and Worcester Fire and Rescue Service indicated the fire had been started deliberately.
It concluded that for it to take hold "sustained application of a naked flame would be needed".
Dr Michael Dennett, an independent fire consultant called by the prosecution as an expert witness, was asked to comment on the actions of managers Mr Simmons and Mr Ashley when dealing with the fire.
Dr Dennett, a former firefighter, told the court it was his understanding that when Mr Simmons arrived at the scene the fire had already been burning uncontrolled for 15 minutes.
He said Mr Simmons, aged 50, from Hampton Magna, should have known the area around the fire was already full of smoke and that he should have known what resources were available.
He added that Mr Simmons should have also known that the hosereel used to tackle the fire was inadequate.
When asked by the prosecution if Mr Simmons' actions were reasonable and competent as would be expected, Dr Dennett replied that he did not believe he acted as a "reasonable and competent incident commander".
Dr Dennett also said that by the time Mr Ashley, 45, from Nuneaton, arrived to relieve Mr Simmons the fire had been burning unchecked for about an hour.
He said that teams coming out of the fire area had described the conditions as hot and visibility as nil.
The trial continues.