Fire officer Paul Simmons cleared over Atherstone deaths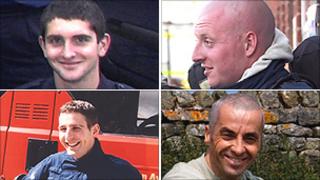 A fire service officer has been found not guilty of the manslaughter of four colleagues who were killed in a blaze at a warehouse in Warwickshire.
Paul Simmons, 50, was acquitted five weeks into his trial at Stafford Crown Court on the judge's directions.
The case continues against two other men, Adrian Ashley and Timothy Woodward, who were incident commanders at the time of fire in November 2007.
They both deny manslaughter by gross negligence.
Firefighters John Averis, Ashley Stephens and Darren Yates-Badley died in the fire at the vegetable packing warehouse in Atherstone-on-Stour.
Ian Reid, 44, died later in hospital from smoke inhalation and suffocation.
'Greatly relieved'
The judge, Mr Justice MacDuff, directed the jury to acquit Mr Simmons of their manslaughter on Monday.
Mr Woodward, 51, from Leamington Spa, Mr Simmons, from Hampton Magna, and Mr Ashley, 45, from Nuneaton, acted as incident commanders during the fire.
The prosecution alleges that Mr Stephens, 20, Mr Yates-Badley, 24, Mr Averis, 27, and Mr Reid lost their lives needlessly after being sent into an obviously dangerous situation for no good reason.
In a statement, FBU general secretary Matt Wrack said Mr Simmons's family were "greatly relieved".
'Thoughts with them'
"As a watch manager, Paul Simmons is a frontline firefighter," he said.
"He is not and never has been a senior officer, let alone a fire chief as sometimes reported.
"The threat of prosecution has been hanging over Paul since November 2007 when four of his fellow firefighters died at Atherstone-on-Stour.
"Paul Simmons and his family are greatly relieved at the not guilty verdict.
"There are also the families of those who died and our thoughts remain with them as they continue to deal with their tragic loss.
"Those families, the colleagues of those who died, and firefighters and officers across the UK want to get to the bottom of what happened on that night."