Alpacas barred from Kenilworth Show following bovine TB concerns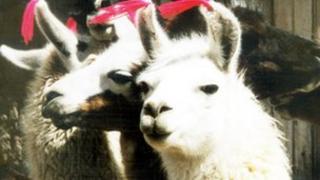 Alpacas have been banned from a Warwickshire agricultural show following concerns they could be involved in the spread of bovine TB.
The organisers of the Kenilworth Show said that they hoped the animals would return in 2013 if a national testing program was put in place.
There are normally about 150 alpacas at the show at Stoneleigh Park in June.
Shaun Daniels of the British Alpaca Society said it was disappointed, but understood the decision.
TB-free area
Guy Minshull, chairman of the Kenilworth Show organising committee, said: "Our main concern was that, as Warwickshire is a TB free area, if any infected animal came to our show, TB could be contracted through various means and then into cattle at a later date."
Mr Minshull said concern first arose when a vet expressed concern that alpacas could carry TB and were not under the same "stringent tests as cattle."
"We did approach the Department for Environment, Food and Rural Affairs (Defra) to see what their criteria was on the situation and they said there wasn't any information they could give us on what to do.
"It's purely precautionary, most of the alpacas we have are all of very good herds and have their own show within our show," he said.
Testing programme
Shaun Daniels, chairman of the board of directors for the British Alpaca Society, said the society was working with Defra to develop a testing programme.
He said: "Alpacas are not subject to the same level of bureaucracy that the normal livestock industry has to comply with, but we are now looking forward to meetings with Defra where these issues are going to be discussed with them."
In April, a woman from Cornwall, who received an award for her campaign for compulsory TB testing of alpacas, contracted the illness herself.
Dianne Summers, had eight of the animals put down in 2008-09 when they tested positive for bovine TB, and believes she contracted the disease from the animals.
Bovine TB, which can take years to develop, damages animals' lungs and leads to death if not treated.