Rugby teenager hopes music passion becomes career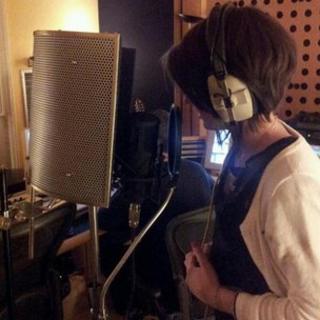 BBC Coventry & Warwickshire's Band of the Month for May is a solo artist who was first picked up on the radar of the station's Introducing programme two years ago.
Emily Burns seemingly came from out of nowhere, strumming her way through the charming Stronger Than I Am, a refreshing number that proved the young teenager had a songwriting maturity beyond her true age.
Now 17, plenty more have picked up on Emily's talents and she is being nurtured within the music business.
The ultimate goal is to turn her passion into a career, something she has wanted from an early age.
Emily said: "I started getting into music from a very young age and it has always played an important role in my life.
"My dad and older brother also sing and play guitar and I feel that this is where my love for music stemmed from.
"I first picked up a guitar when I was around eight years old and started to write my own songs at the age of 10.
"My biggest influences are artists such as Corinne Bailey Rae and Pink.
"I love listening to music of all sorts and currently listen to a lot of early Michael Jackson and The Jackson Five."
Calvin Harris
It was not until Emily entered a national singer-songwriting competition that she realised her passion for gigging, especially after performing at the O2 Arena.
Brimming with a new-found confidence, the teenager was subsequently invited to attend last year's BBC Introducing Masterclass sessions held at the Maida Vale and Abbey Road studios.
"Whilst there I met some very influential people in the music industry including Calvin Harris and Tom Robinson," Emily added.
"I gave my CD to a voice coach at a session who contacted me two weeks later and arranged for me to meet with the in-house producers at Abbey Road Studios.
"I am now in a production contract with Cave Productions at Abbey Road and I'm loving it.
"I have been travelling back and forth to London writing and recording my own material and also writing for and with other artists.
"I have also been doing gigs locally and in my native Scotland.
"The plan is that my production contract will lead on to a record deal in the future, as music is my passion and I would love for it to be my career."
Emily Burns' music can be heard on BBC Introducing in Coventry and Warwickshire on Fridays between 20:00 and 21:00.