Coventry's Henley Green school in legal wrangle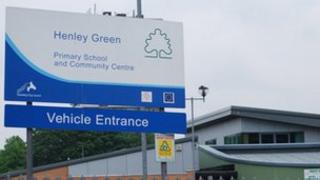 Plans to turn a Coventry school into an academy have prompted legal proceedings to be launched against the government.
The city council is seeking a judicial review at the High Court after it was told to begin the process of changing Henley Green Primary School's status.
A Department for Education (DfE) spokesman said concerns over pupils' progress had led to the decision.
Cabinet member for education David Kershaw said the council was "against forced academies".
Mr Kershaw said the Labour-led authority had already implemented its own intervention programme to raise standards.
'Disrupt the school'
He said: "This school is making progress...because of the quality of the leadership and the teaching in that school.
"We believe that we have got the moral purpose and the determination to raise standards of achievement in this school.
"They [DfE] have sent a letter saying you must take the necessary bureaucratic procedures to start the process now.
"If we just sat back and allowed this to go ahead as we've been instructed, it will disrupt the school, it will interfere with the youngsters' progress and there will be local controversy."
In a statement, the DfE said: "Henley Green Primary's results have been on a downward trend since 2009 and the number of pupils making expected progress is well below the national average.
"We are very concerned the school is failing to give its pupils an acceptable standard of education. Ofsted has also raised concerns.
"We think the strong support and external challenge of an academy sponsor is the best way to improve schools that are consistently underperforming.
"We would, therefore, like the school to begin the process which could lead to it becoming an academy.
"We will consider this legal challenge and respond in due course."