Nicola Payne: Police question two men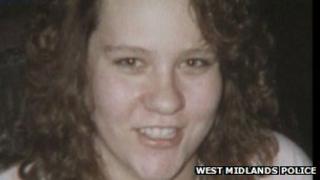 Police have been given more time to question two men arrested as part of an investigation into the disappearance of a Coventry mother.
Nicola Payne, 18, went missing from the Wood End area in December 1991. She had a six-month-old son.
West Midlands Police arrested a 74-year-old and a 45-year-old from the area on suspicion of conspiring to prevent the lawful burial of a body.
Officers are continuing to search parkland off Purcell Road.
Experts have been clearing the ground with a view to some excavation work taking place.
Police said they have received a significant number of calls and information from the public following a number of appeals and letter drops in the area, asking people to come forward.
£10,000 reward
Det Ch Insp Matt Markham said he was pleased with the progress of the search.
He said the arrests of the men had been "directly linked" to new information police had been given.
They were arrested on Wednesday and police have been given 12 hours to continue questioning them.
A £10,000 reward has previously been set up by Miss Payne's family and friends for information leading to the discovery of her whereabouts or the recovery of her body.
Miss Payne was last seen near to the Black Pad in Wood End on 14 December 1991.
In 2007, a man was arrested in connection with her disappearance and released on bail.
No-one has been charged in connection with the case.