Warwick Parkway sees £2.5m car park expansion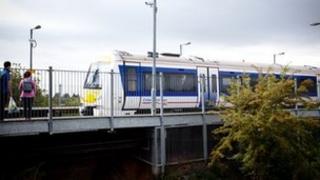 Work on a £2.5m car park deck is under way at Warwick Parkway railway station following a rise in passenger numbers.
The new decking area will create 222 additional spaces, bringing the number at the station, which is on the outskirts of Warwick, up to 959.
Chiltern Railways said the number of people using Warwick Parkway was 32% higher following the launch of the faster Chiltern Mainline service.
Its fastest service now takes 90 minutes between Birmingham and London.
Warwick Parkway opened in 2000.
The car park expansion has been funded by Chiltern Railways, with £1m from the Department of Transport.
Transport Minister Theresa Villiers said she hoped it would ease congestion and improve overall journey satisfaction.
"I am delighted that we are able to announce the investment for this considerable car park extension at Warwick Parkway - there is no doubt that this will encourage more people to travel by train," she said.