Outbuildings linked to George Eliot under threat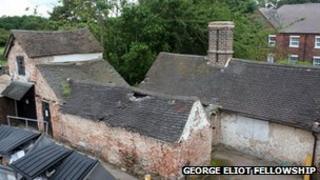 George Eliot enthusiasts hope two outbuildings that stand behind the writer's former Warwickshire home can be saved from demolition.
The George Eliot Fellowship wants the old farm buildings near the grade II listed Griff House in Nuneaton to stay, citing their historical importance.
English Heritage said the buildings themselves were not listed.
Owner Whitbread wants to knock the buildings down as part of a wider "renovation project".
It is waiting to hear a decision from Nuneaton and Bedworth Council which is expected next week.
'State of dilapidation'
Chairman of the George Eliot Fellowship, John Burton said: "Griff House itself has been extremely well maintained and has been restored in the last year and they've made a marvellous job of it."
He said the writer, whose real name was Mary Ann Evans, had grown up on the nearby farm and said there was "a fair degree of certainty" that she would have used the outbuildings.
Whitbread said the decision to remove the buildings was part of a renovation project for the whole site.
A spokesperson for the company said: "The two buildings in question are in a serious state of dilapidation and form a small part of the farm buildings.
"The vast majority of the farm buildings are in a very advanced state of disrepair."
The company said it would comply with the authority's decision, expected on Monday 2 July.