Massey Ferguson tower in Coventry to be blown up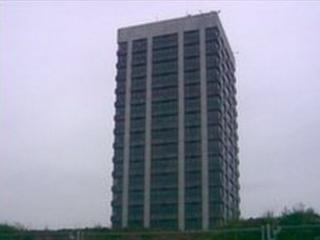 A tower block on the outskirts of Coventry is set to be blown up at the weekend.
The former Massey Ferguson tower on Banner Lane, Tile Hill, will be demolished in a controlled explosion between 10:00 and 12:00 BST on Sunday.
The 16-storey tower, built in the 1960s, closed with the factory in 2003.
Up to 150 people are expected to be evacuated from 66 properties within the immediate exclusion zone, with Banner Lane closed from 08:00 BST.
Organisers said about 700 holes have been drilled in the tower and filled with explosives.
The Lord Mayor of Coventry, councillor Tim Sawdon, and a six-year-old girl called Daisy, representing the Acorns charity, will press the plunger.
Richard Oldroyd, of developer Persimmon Homes South Midlands, said 1,000 homes will have been built on the old tractor factory site when the area has been fully developed.
Mr Oldroyd said: "The area where the tower is now will be offered to Coventry City Council and will form part of the site for a new primary school and playing field for the benefit of the community.
"It all goes down in a second but it's actually six months worth of planning that goes into that."