London 2012: No parking at City of Coventry Stadium for Olympics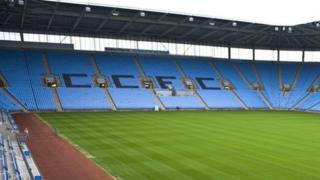 Visitors to the City of Coventry Stadium will not be able to park at the venue for the Olympic football games.
No parking will be available at the on-site car parks and organisers have urged drivers to use parking elsewhere or free shuttle buses.
The stadium will be hosting 12 Olympic football games from 25 July to 9 August.
People have been urged to allow plenty of time to reach the site because of the parking and security checks.
Free shuttle buses will operate from Coventry railway station and Pool Meadow bus station.
Anthony Mundy, facilities director at the City of Coventry Stadium, has advised people to park two-and-a-half hours before kick-off.
He said: "As part of London 2012's aim for spectators to travel by public transport and the security arrangements, it is best to plan this from a timing point of view as if you are going to an airport.
"Taxis and private hire vehicles will not be able to drop off their passengers on Judds Lane as usual and instead will be directed to the nearby retail park."
He said that people entering the stadium would be searched as per Home Office policy and that stewards would be operating a "pat down" policy.
There will be a limited number of spaces for pre-booked blue badge holders at the stadium.