London 2012: Immigration arrests at Coventry stadium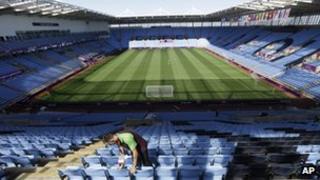 Two men being accredited to work at the City of Coventry stadium during the Olympics have been arrested for breaching immigration laws.
The pair, aged 21 and 24, were arrested following security checks carried out by the stadium's accreditation centre.
The stadium, home to Coventry City FC, is hosting 12 Olympic football matches.
The UK Border Agency (UKBA) said the two Pakistani nationals were in immigration detention.
A UKBA spokesperson said: "Two Pakistani nationals were arrested during checks on staff applying for accreditation to work at the City of Coventry Stadium.
"The checks revealed that the individuals did not have the right to work in the UK and both were arrested before the lockdown period which starts there later today [Wednesday].
"Neither individual was working as an Olympics security guard."
The spokesperson and West Midlands Police said the arrests showed "our system of checks is working".
The UKBA added it would seek to return the two men to Pakistan as soon as possible.
The 21-year-old was arrested on Tuesday, while the 24-year-old was taken into custody earlier.
The younger man worked for East Midlands Security while the 24-year-old worked for Event People, the UKBA said.
A spokesman for the City of Coventry Stadium said: "East Midlands Security has been employed as a sub-contractor by G4S to secure the car parks at the City of Coventry Stadium.
"We have not employed East Midlands Security for the Olympic Games and have never employed them."