Remploy staff in Coventry join strikes on factory closures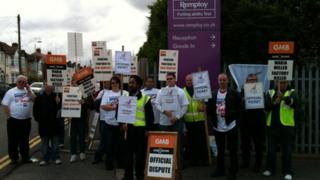 Workers at a Coventry factory have joined the first of two 24-hour strikes over government plans to close some plants and sell off others.
Remploy's factory at Torrington Avenue is one of 54 across the country, funded by the government, which employ disabled people in a range of roles.
Ministers have said 27 loss-making sites will close, with the disability employment budget being better spent.
Unions said many of the staff would struggle to get jobs elsewhere.
The factory on Torrington Avenue is not one of the 27 targeted for closure, but staff said they feared for their jobs if it was sold off.
Martin Hindle from the GMB union said a lot of the most severely disabled workers would end up on benefits.
"At the moment they've got meaningful employment. They're doing a great job for Jaguar Land Rover," he said.
'Unknown fear'
The Coventry and Birmingham plants are part of Remploy's automotive section, which supply local car manufacturers.
Clare Evans from the Unite union said: "The fear is the unknown. Nobody knows what is going to happen to us.
"At the moment we are one of the 18 factories staying open, but being sold off.
"Every month we turn a profit. Last year we had to work overtime to keep up with the work."
She added that rather than sell off the factory, it could be earning money for the government.
The GMB and Unite unions said its members were planning a second strike for Thursday 26 July.
The Department for Work and Pensions said: "We're disappointed that the unions are taking strike action which will do nothing to secure the future jobs of Remploy staff.
"The government would encourage the trade unions to fully engage with Remploy during the consultation process to provide the best possible support and success for disabled staff who may leave the company."