Coventry Cathedral in 50th anniversary reunion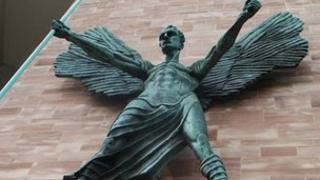 People who have played a part in the 50 years of Coventry Cathedral are being invited to a reunion in October.
The event, for anyone who has been involved with the building, will take place on 13 and 14 October.
The previous St Michael's Cathedral was bombed during the Blitz on Coventry in November 1940.
In May about 1,800 people, including the Princess Royal, attended the 50th anniversary service at the cathedral, which was designed by Sir Basil Spence.
The new Coventry Cathedral stands alongside the ruins of the old building as a symbol of peace and reconciliation.
Reunion organiser Christine Doyle, from the cathedral, said: "I think it's just really important that everybody who's been involved gets to be part of the 50th anniversary celebrations.
"There are simply so many stories that we'd just love to capture and create an opportunity for people to get back together and have a good old gossip."
To celebrate the cathedral's anniversary, BBC Coventry & Warwickshire has recorded 50 stories about the cathedral from those who have played a part in its history.
The 50 Stories for 50 Years have been shared on the radio and on the station's Facebook , Twitter and AudioBoo pages.