Cathedral Lanes redevelopment plans drawn up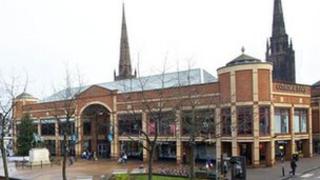 Plans to redevelop the Cathedral Lanes shopping centre in Coventry have been drawn up by developers.
Coventry City Council said it was working closely with the owners, Hammerson, on three potential designs.
The council's director of development, Martin Yardley, said he hoped a planning application would be submitted before the end of the year.
He said: "The building justifiably gets a lot of criticism about how it looks so we've got to do something with it."
The shopping centre overlooks Broadgate, which was recently pedestrianised as part of a £7m redevelopment project.
The council said plans for Cathedral Lanes would include lowering the roof to improve views of the cathedral and putting in a more direct route between the shops and the city centre.