Cat lover, 91, leaves home to Coventry rescue charity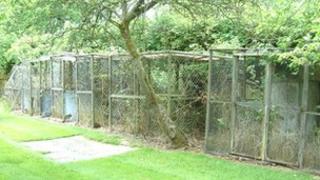 A 91-year-old woman from Coventry has bequeathed her home to a volunteer cat rescue group.
Diana Williams, who fostered cats for Coventry Cat Group, died in May.
The charity hopes to replace the 20 cat pens already in the Allesley bungalow's garden, at a cost of about £60,000. The bungalow is thought to be worth in the region of £300,000.
Trustee Angie Willems, 54, said she had "great respect for Diana", who she described as "a very feisty lady".
She added that there was "a whole mix of emotion" about the pensioner's death.
'Very disheartening'
"I was very upset at first, then there was excitement about the house and then fear of all the work that needs to be done."
Ten volunteers from the charity, which has been running since 1997, currently foster cats in their own homes.
The volunteers cared for 80 cats last year, Ms Willems said.
She explained that the charity was over capacity this year, adding: "It's very disheartening to turn away cats that need help because we get to the stage that we can't do anything."
The group, which takes in cats from anywhere within the CV postcode, is hoping that having a base of 20 pens will enable it to take on more cats and kittens.
Ms Willems, who said she was told planning permission from Coventry City Council was not needed to replace the pens, added that the house would not be open to the public as cats would be "viewed via internet bookings".
The group plan to revamps the kitchen area of the bungalow to use for its daily work.
The charity is looking to rent the remaining property, comprising two bedrooms, a living room, kitchen diner and a conservatory, to a tenant who is "sympathetic to rescue work" by the end of the year.