Coventry University security staff strike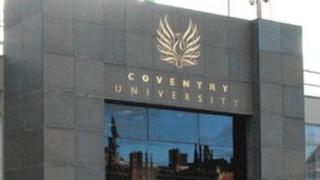 Security staff at Coventry University are holding a week-long strike over plans to outsource their work.
Members of the Unite union said transferring the service to outside firm Mitie would mean staff having their pay halved and hours extended.
Alan Lewis, Unite regional officer, said the numbers of security staff had been cut from 50 to 30, which could jeopardise students' safety.
The university said it took the issue of safety "very seriously".
Mr Lewis said the strike, which will continue until Saturday, had been called after Mitie changed the terms and conditions of staff contracts.
He said the changes are due to come into effect on Wednesday.
He added the striking guards would be highlighting the potential problems of having a reduced staff to students and their parents to urge them to put pressure on the university and Mitie.
Relief officers
In a statement, Mitie said there was "no question" of the safety of "students, staff and visitors" being at risk.
It added: "We will be deploying highly-trained relief officers during any period of industrial action to ensure a safe and secure environment and there will be no shortage of security in any area of the university."
The university said in a statement: "We take the issue of the safety of our students and staff very seriously, and can confidently reiterate the assurances of our protection service providers that the secure environment on our campus and at halls of residence will not be adversely affected by any proposed industrial action."