Second gold postbox for Nick Skelton in Bedworth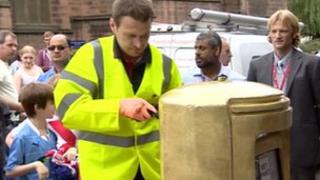 A second postbox has been painted gold to honour the Olympic achievement of showjumper Nick Skelton.
More than 800 people backed a Facebook campaign to have his gold medal success in the team showjumping marked in his birthplace of Bedworth, Warwickshire.
A postbox has already been painted in Alcester, where Skelton, 54, now lives.
Kevin Wise, who started the campaign, said Bedworth residents had been "ecstatic" over Skelton and Team GB's showjumping gold.
"On the day that Nick won the gold, spirits in Bedworth were absolutely high," he said.
"Everybody was ecstatic that he'd won and also over the fact that Bedworth was going to receive a golden postbox.
"And later, when it appeared that Alcester would get the golden postbox, everybody was a bit downhearted."
Horse postbox call
Royal Mail agreed to the second honour and workers have painted the box by Bedworth's Civic Hall.
Feelings over the golden postbox honour have been strong in parts of the country.
A man in Lymington, Hampshire, painted a postbox himself to honour resident Ben Ainslie's sailing gold.
It led to a U-turn by Royal Mail, which originally insisted only a postbox in Cornwall, where Ainslie grew up, would be turned golden.
Meanwhile, Norfolk residents have asked for a postbox to be painted gold in honour of Skelton's horse Big Star, which is stabled in Holt.