Coventry CAB builds replica flat for cash-saving tips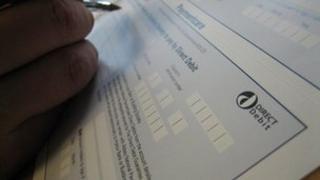 Coventry's Citizens Advice Bureau (CAB) is building a replica flat to help social housing tenants manage their money.
The bureau has received nearly £1m as part of a £31.7m drive to stop such tenants spiralling into debt.
Tenants will use the flat, being set up next door to the Little Park Street office, to learn to run a home cost-effectively and cook cheaply.
Big Lottery Fund England is supporting 37 projects across the country.
The national funding follows concerns that people on lower incomes receive a "poverty premium" and turn to loan sharks or high interest pay-day lenders.
The city's CAB has seen a 62% increase in three years in the number of social housing tenants seeking advice about debt, advising 2,000 tenants last year.
Through the replica flat and home visits, tenants will also be given DIY tips and advice on how to save on heating costs.
Its project "Sorted - your home, your money, your future" aims to help more than 5,000 residents sustain their tenancies and better manage their money.
Charley Gibbons, head of the city's bureau, said new tenants without affordable credit options faced "pressures" of paying bills, furnishing their homes and budgeting for unexpected costs.
"Often, tenants address this by borrowing from high-interest lenders or hire-purchase furniture companies without understanding the crippling rates at stake," he said.
The project also aims to support people through changes to the benefit system, he added.
CAB will work with partners including the city council, Whitefriars Housing and Midland Heart Housing.
The project will particularly aim to help new social housing tenants and those aged under 35, as well as people going through significant life changes which will affect their income.
The Coventry scheme is among five in the West Midlands region which will benefit from the funding. Others include Stoke-on-Trent CAB which will receive £780,702 so that it can help harder-to-reach groups, such as survivors of domestic violence, with financial pressures.