Coventry welcomes Paralympic flame arrives in city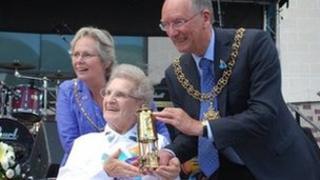 Coventry's Paralympic flame has been on display in the city's Millennium Place.
Former Paralympian Rita Thompson, 86, collected the flame during a ceremony in Trafalgar Square on Friday and brought it back for the special event.
A dance troupe led by former Birmingham Royal Ballet dancers performed an Olympic piece commissioned by Mencap in front of dozens of spectators.
The public were invited to try out a number of Paralympic sports like boccia and wheelchair basketball.
More than 2.3m of 2.5m tickets for the Games had been sold by Thursday.
Ms Thompson, who won gold in the lawn bowls at the Arnhem Games in 1980, believes the sales indicate the nation is firmly behind the Paralympics which begin next week.
She said: "We're already hearing that they've pretty much sold out of all the Paralympian tickets so it shows that it is really creating a lot of interest.
"The public realise that we disabled [athletes] can achieve as much as the ordinary Olympians have achieved."
The city welcomed the Olympic torch relay earlier in the summer and also hosted a number of football matches.