Coventry residents call for fewer student properties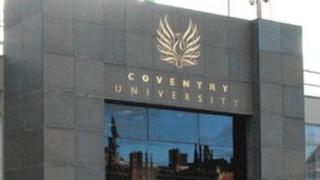 A residents association wants Coventry City Council to change its planning laws to stop properties being divided up for student accommodation.
Charterhouse Residents Association claims that too many homes of multi occupancy (HMO) were leading to a "breakdown in communities".
It said that elderly residents in parts of Whitley were being left isolated.
The city council said it had no policy on HMOs and any conversion of a property needed planning permission.
Dave Griffiths, from the residents association, lives on Monks Road and said about 80% of properties on his street were now HMOs.
'Driven away'
He said: "We don't have a problem with the students living there, in fact, we knew when the university expanded it would mean a lot more young people moving to the area, which we accepted.
"But we've now passed the tipping point where the community has been driven away.
"This used to be a very close-knit neighbourhood; now people don't even know who's living on their street."
Mr Griffiths said the residents association wanted the council to change its by-laws to make it more difficult for landlords to convert properties.
"The council needs to have a policy so that we have a balance.
"Why not go 50-50, so that so many houses are multiple occupancy but we'll try and maintain a community as well?"
Coventry City Council said it did not have a quota on how many houses of multi occupancy there should be in the city.
It said it was currently consulting on a new housing strategy for the next 15 years.