Violent Coventry offender backs domestic abuse scheme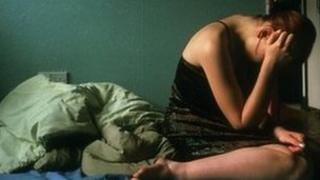 "Looking back, I was angry," said John, who has served time in prison for abusing a former partner.
"There was a lot of things that caused my anger but what I have to be careful of is not to use things that had happened as an excuse and accept responsibility for my own actions."
John, who lives in Coventry, was jailed for a violent attack in 2010. It was not his first offence.
"I'd been violent most of my life. Most of my life's been surrounded by violence.
"I had to find a way to get around that and to try and understand who I was and what I was and why I was offending."
Lack of trust
On his release from prison, John took part in an intensive domestic abuse programme (IDAP) run by the Staffordshire and West Midlands Probation Trust.
The trust had already enlisted the help of West Midlands Police in expanding in a bid to reduce the number of reoffenders in the Coventry area.
Some 8% of all offenders currently reoffend in Coventry and Warwickshire according to the trust's figures dating back to April 2010.
Of those that complete IDAP, 3% reoffend although 27% of those who abandon the programme carry out further abuse on a partner.
Tracey Bradford one of two PCs from the force involved with the programme, said: "At first they [offenders] don't trust us because we are the ones who brought them into the situation.
"We're the ones that have arrested them.
"But when they do see that we actually want them to be rehabilitated it gives them a different mindset about the police.
"It gives officers a greater understanding of domestic violence and the reasons why it happens within the family unit."
'Very painful'
John worked with PC Bradford on his release on licence and he wishes the programme had been made available to him earlier.
He added: "You learn a lot about yourself - about your emotions and your feelings.
"You examine who you really and truly are.
"You come to recognise exactly what pain, what misery and what suffering you're causing to your victim.
"When you're faced with that it's a very painful thing."