Warwick Castle bird of prey flies off during display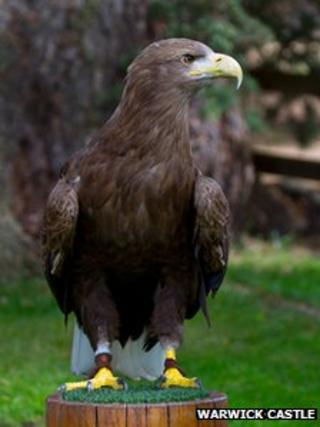 Warwick Castle has lost one of its birds of prey.
Stanley the white tailed sea eagle has been missing since last Thursday when he flew off during a show at the tourist attraction.
The 10-year-old has a wingspan of more than 6ft (1.82m) and his keepers said he was fairly timid.
Chris O'Donnell, who helps run the falconry shows at the castle, said: "We're hoping that he is somewhere fairly near."
"It may well be that he's found a dead animal and is sitting there eating something and has no real desire to come back to the castle until he's hungry again," he added.
Mr O'Donnell said that in the wild, Stanley could go for up to 10 days without food so they were not too worried he would starve, but they were concerned he could be injured if he landed on a power cable.
Stanley is named after Kazakhstan, where he is originally from, and has been flying at the castle for more than 8 years.
A spokesman said all of their birds are trained to free fly in their shows, which means that they are able to leave the area.