Warwickshire library survives as dance school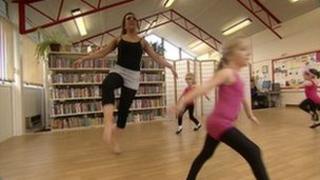 "When I heard the library was going to close I knew I had to do something", said Amanda Genge, who helps to run Dordon's new community library.
Six months ago, 13 libraries in Warwickshire were handed over to volunteers because the county council could no longer afford to run them.
Some were closed altogether and 60 people lost their jobs as part of £2m savings.
Volunteers at the new community library in Dordon have transformed part of it into a dance hall in order to raise enough money to keep it going.
Lisa Hartz, who runs her dance school from the library, said: "We do dance classes here five days a week.
"It can get a little bit noisy but the locals don't seem to mind.
"I was looking to re-locate in the Dordon area and I heard its library was up for closure, so I approached the volunteers here at the library.
"The money from the rental that I pay goes to sustaining the library."
Many of the dancers choose to do their homework in the library before their class starts, including tap dancer Jade McCarthy.
She said: "I think it's very good. It's changed things for me because I can get a book and read between dances, so it's changed me and what I would do in my life."
But things could not be more different for residents over in Binley Woods, one of two libraries forced to closed as part of the cuts programme across the county.
Sixty people have already lost their jobs as part of £2m worth of savings. Binley Woods library is now up for sale and the parish council is struggling to find the funds to try to buy it.
Paul Salisbury, chairman of Binley Woods Parish Council, said: "The parish council have got a certain amount of money but they haven't got enough to pay £125,000-£150,000 that Warwickshire County Council are looking for, and so we need some help with funding.
"The county council haven't been very helpful at all, they've just left us to go and look for funding."
The man responsible for libraries at the county council, Councillor Colin Hayfield, said: "I've been working very closely with the local councillor and we're hopeful, it just hasn't happened yet.
"Our ideal solution would not to have been to take money from the library service at all, but that's not the world we're in. Every service in the county council has had to bear its share of these huge savings targets we've had to make. So I think we've done the best we can."