George Eliot Hospital children's service changes backed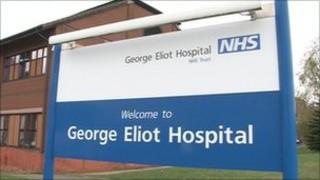 Changes to children's services at the George Eliot Hospital in Nuneaton have been approved by NHS bosses in the county.
Children's inpatient services will move to University Hospitals Coventry and Warwickshire.
The Arden Cluster said it would be replaced by a short-stay assessment unit, open between 08:00-22:00.
Managers said outpatient paediatric and maternity services would remain at the George Eliot Hospital.
The Arden Cluster, which represents NHS services in Coventry and Warwickshire, said the changes were expected to be in place by April 2013.
Stephen Jones, Chief Executive of the cluster, said the decision would provide a long-term "sustainable model of care for children's services".
In October, the cluster board launched a review of all children's and maternity services at the Nuneaton hospital.
Outpatient paediatric and maternity services were originally expected to close, a decision which was reversed in April.