Drink-driving charge after crash in Welford-on-Avon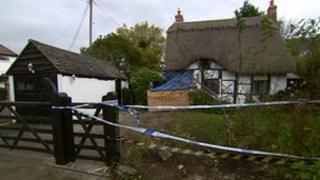 A man has been charged with drinking and driving after a car went through a garden and crashed into a thatched cottage in a Warwickshire village.
Grant Banton, 22, of Broom, was also charged with other driving offences after the crash in Welford-on-Avon at 22:30 BST on 29 September, police said.
The driver and passengers had minor injuries. No-one was in the house.
Mr Banton is due to appear before magistrates in Leamington on 17 October.
Warwickshire Police said the property had been secured by structural engineers to allow the car to be removed.
Insp Mike Smith earlier said there had been fears the car's removal could cause the cottage to collapse.
The driver and three male passengers were taken to hospital as a precaution, but suffered only minor cuts and bruises in the crash, police said.