Leamington railway station murals unveiled in underpass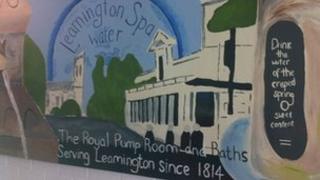 A series of murals produced by young offenders has been unveiled in an underpass at a Warwickshire railway station.
Thirty-five young people have produced 16 murals depicting events and figures from Leamington Spa's history.
Jephson Gardens, the Regent Hotel and Elephant Walk are among the local landmarks included.
Network Rail said the project was in response to concerns about the look and safety of the listed subway.
In February 2011, Warwickshire Youth Justice Service appointed a group of young people to work on the murals as part of a restorative justice project to give something back to their local community.
The Friends of Leamington Station helped them with historical accuracy and background information for the paintings.
It was part of a wider scheme led by Warwick District Council involving the removal of graffiti, cutting back hedges and replacing fencing.
Station manager Karen Bowden said the state of the underpass had been a "disgrace".
Ms Bowden said: "It wasn't inviting and it didn't show Leamington in a good light.
"It's much brighter and more inviting so people will hopefully use it more and help prevent vandalism."