Prince Andrew officially opens Sidney Stringer Academy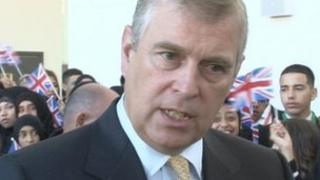 The Duke of York has officially opened a new academy in Coventry.
The Sidney Stringer Academy in the Hillfields area was built after much of the old school was destroyed in a fire five years ago.
Prince Andrew unveiled a new plaque to commemorate the opening of the £28m academy.
The academy, which moved into its new building last year, is run by the city council and sponsors including Jaguar and Coventry University.
Pupils were left using portable buildings after a fire damaged 40% of the site in 2007, affecting the gym, a sixth form centre and school theatre.
Sidney Stringer Academy has 1,300 students aged 11 to 19.