Suit bank for job hunters created at Coventry church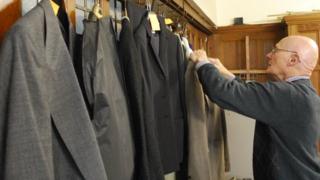 First impressions count and one Coventry church hopes to help prospective workers make a good one when going for their next job interview.
St Mary Magdalen, Chapelfields, recently set up a work club to offer support and encouragement to unemployed people over some tea and toast.
But unlike other similar ventures across the city, they will soon have a suit bank in full operation.
The Reverend Stella Bailey had the idea at the back of her mind for about a year after seeing a tweet from comedian James Corden about one in Newcastle.
And now she is after the clothes found buried at the back of wardrobes to offer out free of charge.
'High Street labels'
Ms Bailey said: "When you walk into the room those first five seconds can mean the difference between getting a job and not getting a job.
"The suits that we're getting in are in a good state.
"They're high quality from many of the High Streets' big labels so they give off a good impression for people who are going to be going in for interviews.
"If they feel like they've had use of the suit and they no longer use it then they can return it back into the system.
"But if they still need the suit they can hold on to it."
More than 20 suits have already been hung up in the church with more set to join the collection, some being donated from as far away as Daventry.
The work club at St Mary Magdalen, which only began last month, is one of a number across the region co-ordinated by Workcare.
Figures released last month showed over 18,000 people are claiming Jobseekers allowance across Coventry and Warwickshire.
One of those is Matthew Cooley, a 38-year-old living in Earlsdon, who has been out of work for about a year since the shop he worked in went into administration.
"I thought I might have found something by now but it's not from lack of trying," he said.
"I don't want to be a couple of years down the line and still out of work."
'Difficult society'
Mr Cooley was given details of the work club in Chapelfields by staff at his job centre. He decided to seek the independent advice despite already re-skilling and received it from Geoff Skelton, a retired teacher of five years, who himself is learning more about his role as one of 10 volunteers available on Wednesday mornings.
Mr Skelton said: "I think this is a real eye opener for me because you listen to the life experience of somebody, their qualifications, the things they've done and then hear the sadness of being unemployed for a year. You think: 'What on earth is going on?'
"[Matthew] is someone who has a BTEC in computer studies. A massive qualification...a lot of people would give their right arm for.
"Why on earth is someone like that unable to find a job?
"It just goes to show the level of difficulty that exists in our society."
And while he is happy offering advice, the former teacher is also offering some of his own clothes.
"There is a suit sitting in my wardrobe from my days of work which can easily come along.
"You're not going to go out and buy one when you're trying to live on £60 a week benefit. It's unrealistic.
"Loads of suits sit in loads of wardrobes doing absolutely nothing.
"Better for them to sit here and let somebody borrow them."