Fillongley beach removal ordered after planning appeal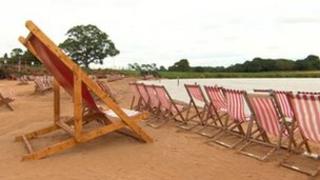 A man-made beach in north Warwickshire has been ordered to be removed after its owner lost a planning appeal.
Heart Park and Beach cost £1.4m and has been run as an attraction for three years off Meriden Road in Fillongley.
Retrospective planning permission for the beach was refused last year.
The borough council said the inspector had rejected the appeal because it was on greenbelt land. Owner Stephen Hammon said he was "absolutely mortified".
The decision to reject the appeal for the beach, which opened at the Heart of England Conference and Events Centre in July 2009, was made following a three-day hearing at Atherstone's Council House last month.
Planning Inspector Tony Fussey upheld all of North Warwickshire Borough Council's actions and also ordered Mr Hammon to pay some of the authority's costs.
'Didn't listen'
The chair of the Labour-led council's planning and development board, councillor Ray Sweet, said they had met with the venue's owner several times to try to get a "forward looking plan".
Mr Sweet said: "It never transpired.
"He just went on and did things and has caused more harm than anything now that he's been doing things his own way.
"We tried to work with him but he didn't seem to listen. He's his own enemy.
"He's got about three months to start removing it."
Mr Hammon, who was originally given permission for the venue's lake, said he was worried he would have to lay off some of his staff following what he called the "surprising" decision.
He said: "I didn't think I needed planning permission for sand and rocks.
"I've got planning permission for schools to be here. I've got planning permission for paddling and swimming, so what is a leisure lake?
"We've offered lots of compromises like shutting to the public and just opening for the schools. I tried every little angle but they didn't listen to a word."