Coventry hostel helping homeless soldiers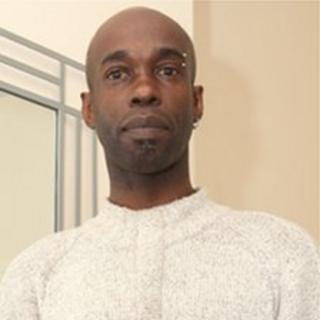 Peter Bennett joined the Army at 17 and said when he left 12 years later he "came out thinking like a soldier".
He explained this meant he was very self-reliant and pretended everything was fine, even though his problems and anxiety were mounting.
"Considering the job you do in the Army, you need 110% confidence in the guys around you and if you have got any doubt and think they have got any issues it's a major, major no no," he said.
"But he'll [the soldier] not say anything to anybody. Nobody wants to leave the Army on a mental health discharge."
Mr Bennett, 47, believes this mindset is a main reason he, like some other ex-service people, got into difficulties after leaving the forces.
An ex-senior gunner in the 40th Field Regiment of the Royal Artillery, his life went into a downward spiral after leaving the forces in 1991 and he spent three years sleeping rough.
'No man's land'
He now works for the charity Coventry Cyrenians, which opened the city's first hostel dedicated to homeless war veterans in November.
Karen Gannon, an outreach support worker for nine years, said it was set up because the charity had found quite a lot of homeless people in Coventry were ex-servicemen.
It was men, generally aged between 25 and 50, some experiencing a number of problems.
"A lot had suffered mental breakdowns, relationship breakdowns and we found a lot had turned to drink," she said.
She said a number of the ex-servicemen showed "offending behaviour", such as aggression, and some had ended up in prison.
Some had post-traumatic stress disorder (PTSD) because of their experiences of war, she said.
Ms Gannon said service people tended to be sheltered from normal responsibilities surrounding money and housing, which could make it difficult for them to adapt after leaving.
"The life in the Army is being told to do this and told to do that and in that sense soldiers are controlled. So when they come out a lot of them feel like they are in no man's land," she said.
"They may cope for a couple of years but then all of a sudden it all comes out."
Mr Bennett, who served in the first Gulf conflict, felt isolated after leaving the Army, despite having a wife, two daughters and a managerial job in a shopping centre.
"I was snapping at everybody, things were just not making sense," he said. "But I should have been happy, and everything should have been right."
He also began having "night terrors", and flashbacks which eventually destroyed his relationship with his wife.
"I once woke up with my arms around her throat," he said.
"It all went pear-shaped after that and I started taking drugs and alcohol."
In hindsight he realises he probably had PTSD, but it was not in his nature to seek help.
His wife returned to her native Germany with their daughters while Mr Bennett lost his job and home and was soon sleeping in his car.
Over the next few years, he continued to sleep rough, travelling from Kent to Birmingham and later Coventry.
He said deep down he retained a survival instinct, which led to him seeking help from a Salvation Army hostel.
Mr Bennett came into the contact with the Cyrenians two years ago and said Ms Gannon in particular had been "my angel".
'Proud people'
He was able to "think straight" after coming off drugs and alcohol and has since moved into a flat and is back in contact with his daughters and family.
"Karen has a lot of anecdotes saying how when we first met I couldn't look anyone in the eye," he said.
"The biggest part of it for me is someone listening and not being judgemental."
Mr Bennett now finds helping other ex-servicemen incredibly rewarding, adding he enjoyed "seeing the guys smile" when they first appeared so battered and tired.
He believes the armed forces should better equip military personnel for returning to civilian life and offer more support afterwards.
The MoD said the mental heath of its service personnel was a "top priority" and it had committed £7.2m to improving services, while "robust systems" were in place to support people at home and on operations.
"Thousands leave the armed forces every year and the vast majority make a successful transition to civilian life," a spokeswoman said.
Ms Gannon said the Cyrenians' eight-bed hostel aimed to help homeless war veterans turn their lives around.
"They are very proud people and don't like to ask for help," she said.
"And they don't realise what help is out there and what benefits are available.
"That's where we come in and try to get them back on track."