Penso engineering firm plans 'to create 100 jobs'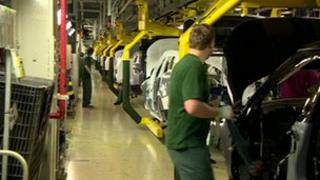 Up to 100 new jobs could created at a Coventry engineering firm after it secured a £1.4m funding package.
Penso said the investment from HSBC would allow it to purchase its Woodhams Road site and install new equipment.
The company provides consultancy services and manufactures parts for the likes of Jaguar Land Rover, BAE, and Mercedes-Benz.
Technical director Dave Roach said Penso had already doubled its workforce and turnover in the last 12 months.
The company currently employs about 140 staff and said it planned to use the new investment to help drive its turnover from £16m to £25m, within the next 18 months.
Penso finance director Richard Owen, said purchasing the factory at Woodhams Road would allow it to modify the plant in a way it was not able to do as a tenant.
Part of the investment will be used to install high-volume composite carbon fibre manufacturing equipment.
Mr Roach said the company's success had been driven by its specialism in lightweight materials and many of the new jobs would be created in high-tech manufacturing roles.
Despite its expansion, he said the company had in the past struggled to find staff with the right skills.
"We've often found staff from similar backgrounds, but we've still had to train them up ourselves from scratch and invest heavily in training," he said.