How Fenny Compton residents saved their village pub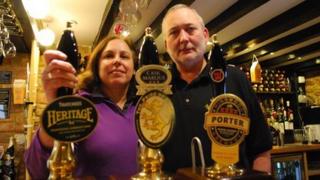 For one Warwickshire villager, the thought of not having a local pub was too much to bear, so he decided to round-up members of the community to take it over.
Nigel Leck was more used to running property companies than pulling pints, but in July 2012 he and his wife re-opened The Merrie Lion in Fenny Compton.
"It all began because my local pub shut down and [a property developer] wanted to turn it into a house," Mr Leck said.
"I think every village has got to have a local pub so it was do or die.
"I've learnt it is a proper community resource. It is something that works within the village for the village.
"It's almost like a separate beast on its own, we're just hanging on to its tails and trying to steer it in the right direction.
"But, it's the village that lead the way."
He convinced locals to become shareholders and they now receive a discount on meals as well as a return on the money invested.
'Seventy shareholders'
More than 200 villagers attended an initial meeting to garner interest in breathing new life into the pub, which had closed in 2010.
Last year, a number of them bought £500 blocks of shares to help fund the £280,000 refurbishment project.
A few months, and a signed 30-year lease, later everything was in place, according to Mr Leck's wife Daphne.
"About 70 villagers are shareholders in the Merrie Lion Ltd," she said. "They're preference shareholders.
"They get 3.5% on their investment, 10% off their food for themselves and a guest, they get an AGM every year and they get to feel they own a bit of the pub.
"It's a drop in the ocean in terms of the complete investment of the whole building and the company but it's certainly a very important part."
Caroline Fielder, a resident in the village for over 45 years, is one of the shareholders and believes it has given Fenny Compton a completely different feel.
She said: "We've got the shop, post office, saved our fire station seven times and I thought if we lose the pub the whole heart of the village will go.
'A wonderful forum'
John Hoyte said he contributed to the scheme because he felt village pubs were a great place to network.
"It's about getting to know people who you know by sight, and suddenly you're talking to them and sharing a beer and finding out their skills. It's a wonderful forum.
"I was at the first meeting and experienced people hanging out of the windows trying to get in and from that point on I thought this was going to work."
Mr Hoyte's son is one of 15 residents employed by the pub, which seemingly bucks the trend across the Midlands where many have closed and remain closed.
Beer sales in pubs in the region are falling at a faster rate than anywhere else in England, according to the British Beer and Pub Association.
Six months on from opening, Mr Leck is adamant that being a free house is the only way he could have made the Fenny Compton business work given the current climate.
"Since we opened, my wife and I have had three evenings off together and that's the way it has to be," he added. "It's the lifestyle.
"People come to see us, come see our pub. It's like our front room and that's how we want it to stay.
Mrs Leck added: "I think we'll be behind the bar for longer than two years partly because we enjoy it and partly because I think that's what the villagers want.
"We are very grateful to the village. They've been very supportive and therefore we owe them.
Other communities throughout the West Midlands have also pulled together to save their local pubs.
In March 2012, residents of Seighford in Staffordshire bought the Hollybush Inn and then leased it to a local brewery.
An Inside Out West Midlands report on the region's pub trade will be featured on BBC One on Monday, 14 January at 19:30 GMT. It will be available nationwide on the iPlayer for seven days thereafter.