Glitch hits 11,500 street lights in Warwickshire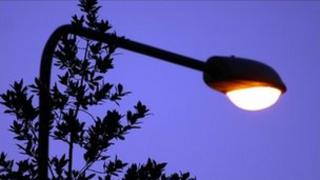 A "software problem" caused 11,500 street lights to go off leaving parts of Warwickshire in darkness.
Warwickshire County Council said "considerable patches" of Nuneaton, Bedworth and Rugby were affected on Wednesday evening.
The problem happened a day ahead of the start of cost-saving measures that will see lights in the three areas switched off overnight.
The council said it was "looking for assurances" the new system would work.
A spokesman for the authority later said the system had been "re-programmed" so was expected to work properly on Thursday evening.
Under the new system, which has already been introduced in Warwick, the lights will be turned off between 00:00 and 05:30 GMT on weekdays and 01:00 and 06:30 GMT at weekends.
'Confidence' needed
Monica Fogarty, strategic director for communities, said the problem in Rugby, Nuneaton and Bedworth had been caused by a fault with the programming of the street lighting.
Lights started going off about 17:00 GMT and the problem continued throughout the night, the council said.
"It's not a great start," she said. "I can only apologise to residents. It's certainly not something that we would have wanted to happen."
She said the council wanted to make sure the software, which was provided by an outside contractor, would work for the planned overnight switch off.
"We, like the residents, want absolute certainty that it's going to go smoothly," she said.
Ms Fogarty added in the event of an "emergency switch-on" the system could be overridden but it was the long-term programming which had to be examined.
She said she would be speaking to engineers to make sure the council had confidence in the system.
The council hopes to save about a quarter of its £2.2m annual street lighting bill by switching off some 80% of lights overnight by April.
It said the lights had been specifically chosen after consultations with police and community safety groups.