Coventry businesses vote over five-year BID tax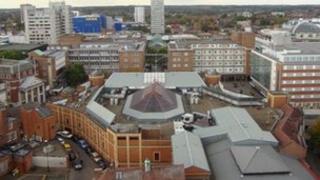 Firms in Coventry city centre are being balloted over whether to agree to pay an extra tax for another five years.
The area within the ring road has been a Business Improvement District (BID) since 2007 with retailers contributing a portion of their rateable value.
If it gets the go ahead Coventry BID will have about £450,000 to spend on extra security, cleaning, planting and marketing each year until 2018.
Businesses have until 1 March to cast their vote.
The chair of Coventry BID, Peter Dunkley, said the services provided to more than "600 customer-facing businesses" from the annual levy were additional to what the city council offered.
'Why another tax?'
Mr Dunkley, who runs Blue Bistro in Spon Street and currently contributes about £75 a year, said: "There is a need for extra cleaning and there's a need for extra planting services in the city.
"The city centre does need to be well presented for visitors.
"There's a radio security system that runs right across the city centre that's used for shoplifters and any trouble in pubs that I think has made quite a significant difference to the security around the city."
But not all businesses in the city centre feel they have got value for money from the scheme which employs seven people across a range of activities.
Colin Bahia, from Max Mobility in Shelton Square, said: "When you're paying £12,000 in rates you think hold on, why another tax?
"The guys do a good job and we don't want to see anyone lose their jobs but they should be working directly through the council."