M6 lorry driver admits killing girl, 4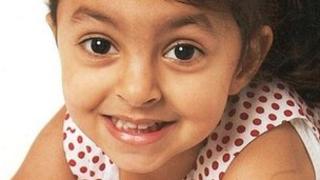 A lorry driver has pleaded guilty to causing the death of a four-year-old girl by dangerous driving on the M6 in Warwickshire.
Priyanka Bhogal, from Coventry, died in hospital from a head injury after the car she was in was hit by 64-year-old Robert Booth's lorry in November 2011.
Booth, of Brockley Street, Sunderland, changed his plea to guilty on day two of the trial at Warwick Crown Court.
He was granted bail but warned to expect to be jailed later in the month.
The crash happened on the southbound carriageway between junctions 4a and 4 on 27 November.
'Punted' into barrier
The court had heard Booth was travelling at 55mph, despite gantry signs displaying a 40mph limit, and ploughed into slow-moving traffic.
Priyanka's parents' Vauxhall Zafira was "punted" into a concrete barrier by Booth's heavy goods vehicle.
Booth had submitted that he might have fallen asleep due to a sleep disorder, rather than tiredness, before the crash.
But he changed his plea after the judge allowed him to discuss the case with his barrister.
The haulier, who is of previous good character, was bailed until 25 February when he will be sentenced.
Judge Sylvia De Bertodano told Booth: "You have made a decision which I think everyone, probably including yourself, is very relieved you have made at this stage.
"Please don't be under any illusions.
"I am releasing you on bail but it will inevitably be a sentence of custody and it will inevitably be measured in years."